Child Safety
Child Safety | Tips for Picking Window Treatments for Kids Rooms
Nowadays, more and more home buyers are required child-safe blinds as part of the home inspection process.
And many pet owners also understand the importance of choosing a safe option.

Choosing the right window treatments for a child's room can be difficult.
Whether it's a kid's bedroom, playroom, or nursery, rooms designed for children pose their own set of design challenges.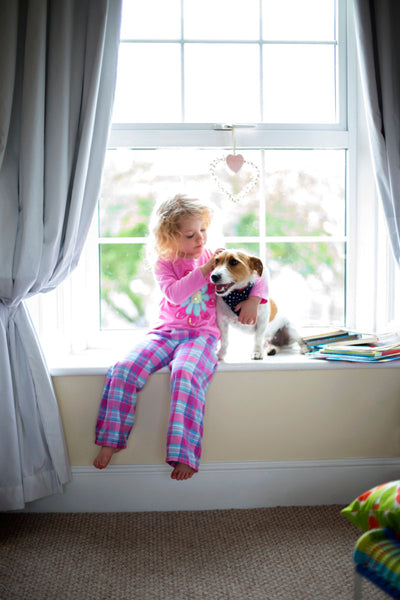 Here are 3 key options every parent should know about ↓

1. Cordless
When it comes to choosing the right window treatments for your child's room, cordless is the way to go.
Shades with cords pose a real hazard for young ones with grasping little hands that could get tangled or caught.
So we suggest replacing corded window coverings with safer cordless products.
Draperies, shutters, and cordless cellular and roller shades are a few preferred options.


2. Room Darkening and Blackout Fabrics
Children are more sensitive to light than adults, so choosing a blackout fabric will be much better than a light filter fabric.
Room darkening and blackout fabrics will keep your kid's room cozy and free from light.
They are more perfect for children's rooms and nurseries with newborns or toddlers as they can create the ideal sleeping conditions, even during the day.
Blackout fabrics also provide maximum protection from harmful UV rays,
protecting your child's tender skin from the harsh sun, especially during summer.

3. Motorization
Motorization offers the best combination of safety and convenience.
One major safety benefit that remote-controlled window treatments offer is privacy.
For example, if your kids will be in the house before you get back from work, you can remotely the window blinds to close from your smartphone.

But we believe that choosing the best window shades and blinds for your child's room doesn't have to be a challenge
We want to make the process smooth, and stress-free for all you busy parents.

If you need more help in selecting the right fit, we would love to evaluate your requirements and
Recommend the perfect custom window covering solution for your kids' bedroom!