Window Treatment Ideas For Dining Rooms
Dining Room Window Treatment Ideas
Before we dig more deeply into dining room window treatment ideas it must be mentioned, that dining rooms are one of the most important rooms inside our house when it comes to requirements on light, decoration and creating a comfortable environment in general. In our dining rooms we sit together with our closest friends and family day in day out and there we sit with with everyone we like so much, that we invite them over for food. This setting requires a place we all feel comfortable and relaxed.
But what are the requirements on dining room window treatments? Well to figure that out, everyone needs to think for themselves at which time the family will gather in the dining room and also consider the general situation of light coming through your windows. Below we will present you a few window treatments for dining room, which we think fit described needs.
Shangri La Window Shades
Shangri-La window shades are not the most known shading options especially when you think about dining room windows. But these high quality shades offer everything you will need in your dining room window treatments. Similar to zebra shades, shangri la blinds offer light blocking and light filtering options in one. You will just need to move the opaque parts to adjust the amount of light coming through Keego Blinds shangri la shades.
Top Down Bottom Up Blinds
If you prefer a more room-filling window treatment on you dining room windows, honeycomb cellular shades might be just the right thing for you. Especially top down bottom up cellular shades make sure to find just the right spot of sunlight entering the room Also have a look at our motorized honeycomb blinds for an even more comfortable shading option. The high insulation of honeycomb shades make them  practical window treatments for dining room all over the year.
Zebra Blinds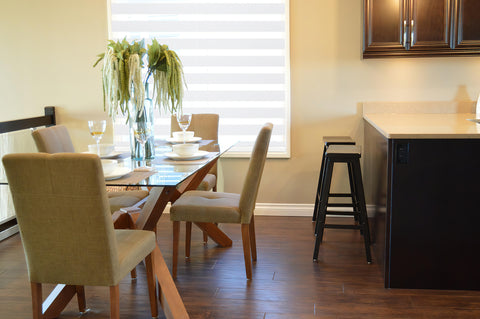 Zebra blinds are our most versatile dining room window treatment ideas. Their neutral and modern look fit almost every dining room window. This and the fact that zebra shades no drill are available, makes them perfect for use in rented apartments. Do not harm your wall and avoid trouble with your landlord. Zebra dining room window treatments offer full blackout or light filtering in a similar way shangri la shades do. Multiple stripes or layers can be adjusted by hand or remote. This will block incoming light from your dining rooms windows 100% or just a little bit.
Conclusion
Finding the right dining room window treatment ideas can be tough as we want them to fit in our overall decoration. Keego Blinds offers different options like shangri-la shades, cellular shades and zebra blinds. Each of them fitting in different style of interior. While this is not enough, each of these window treatments for dining room, do come in different colors.
While your already here
Similar articles with further information: